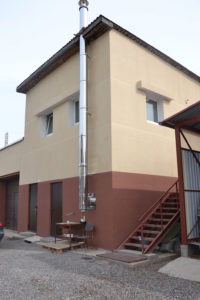 General contracting construction activity, variety of construction works and  plumbing services.
Branch SU-199 (Construction department №199) is a structural subdivision of OJS Company "Stroytrest №35" (Construction trust № 35) which performs construction and installation and  sanitary- engineering works in industries, housing, community facilities, healthcare etc.
Specializes in construction of non- standard  monolithic housing construction in Minsk and also beyond: an apartment building with built-in premises on the Mogilev highway , a group of apartment buildings with built – in premises and underground parking on Irkutskaya street, an apartment building on Zhukovskogo street, apartment house №6 on  Sharangovicha street, apartment house № 12 with built- in premises in the micro- district Loshitza-1, a residential building in the settlement Priluky, as well as in the construction of unique objects, such as a football base of Sport Children and Youth School of Olympic Reserves №5, state enterprise  "Minsk Zoo", a Student apartment complex, hostel № 13, the Centre for security on Olesheva street.
In addition to the new construction, the branch is actively engaged in reconstruction, modernization and capital repair of the objects such as: municipal hospital № 9 on Semashko street in Minsk (building unit № 7), an administrative and economic building on M. Bogdanovicha street,a building of the ambulance station on Zakharova street, an administrative building of the October district of the Investigative Committee Department of the Republic of Belarus on Levkova street,  extension school №15 on Yakubova street, an apartment building on Angarskaya street and an apartment building on Miroshnichenko street (thermal modernization).
Today, the branch SU-199 is a modern powerful management, fitted out with the necessary equipment, mechanized and hand tools to perform all types of sanitary works of any complexity with high quality such as:
installation of central heating systems;
installation of internal hot and cold water supply;
installation of internal sewerage;
installation of systems of heat and refrigeration supply;
installation of ventilation and aspiration systems;
installation of individual and block heat points;
installation of systems of internal gas supply.
At large, this allows JSC "Stroytrest №35" to approach the possibility to perform a whole range of works on their own.
Branch SU-199 has its own production base for the following works to be performed:
production of air ducts and various subsystems of ventilation;
production of tubing stocks and pipe spools;
production of water measuring units, check stations of heat, components of control of heat  and refrigeration supply systems;
production of units for subsequent assembly of ITP and BTP;
production of fasteners for pipelines.
The number of employees today is 200 people. The amount of work that is able to be performed per month includes:
monolithic construction (1100 m3);
block- and partitions' work (1050 m3);
wall plastering  (4200 m2);
heat insulation of walls (2100 m2);
installation of window and door units (630 m2).
In the person of the branch SU-199 you will find a decent partner, with guaranteed implementation of entered engagements and contracts.
---
220013, Minsk, Yakuba Kolasa street, 38
Tel/Fax +375 17 285-80-78 – reception
+375 17 234-35-69 – Director  Protzkevich Yuri Mikhailovich
+375 17 234-35-72 – Chief Engineer Boreyko Vadim Alexandrovich