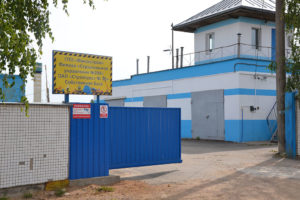 Branch SU-200 of JSC "Stroytrest №35" implements the whole complex of construction works from land development to construction of houses, infrastructure and commercial real estate.
The leadership of the branch provides professional management of construction projects, performing functions of general contractor of the construction.
There are industrial facilities, schools, shopping malls, hospitals, bus stations, and even churches to be possible for the SU-200 team. But it is still typical of today to build dwelling frame-block houses beginning with the first ones with underground garages on Independence Avenue and continuing with skyscrapers on Esenina street and Nalibokskaya street. Among them, there are the most complicated projects, for example, with usage of steel cables to give a building elegance and lightness (the junction of Rokossovskogo Avenue and Plekhanova street). These new buildings have their pros and cons. But, these objects let accumulate invaluable experience and improve professional skills. It is here where the community begins to work together as a team aimed at a common result.
With the number of employees exceeding 250 persons and all necessary equipment, branch SU-200 are able to perform following works despite any complexity of the structures:
monolithic work (more than 2000 m3);
masonry work (more than 1000 m3);
plastering (more than 6000m2);
covering work (more than 400m2).
In the structure of the branch the coupling site was created, which expanded the list of carried out works:
construction of networks, systems and structures of local telephone communication, data communication networks, distribution and receiving systems of television, dispatch communication and telemetry.
fiber – optic communications of any complexity.
According to the results of the Republican contest for the best achievements in the construction industry in 2015, Director V. N. Kozlovsky became the "Manager of the year".
---
220013, Minsk, Yakuba Kolasa, 38
Phone/Fax +375 17 292-72-72 – reception
+375 17 234-13-69 – Director Kozlovsky Vladimir Nikolaevich
+375 17 234-13-66 – Chief Engineer Jaretzky Valery Petrovich