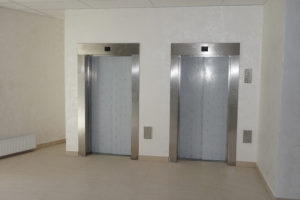 Entrust experts with your lifting.
Kinds of works performed:
installation of elevators, escalators and other handling equipment;
dispatch communication device;
commissioning of elevators and escalators, scheduling;
leasing of construction hoists;
installation, commissioning, maintenance of construction hoists;
electrophysical measurement.
Today it is one of the leading companies on the implementation of a range of works connected with installation of elevators in the Republic of Belarus. High rates, time frame and a high quality of work made SMU-1 one of the leaders in this construction industry.
SMU-1 specialists carry out installation of elevators of any complexity and configuration, as well as electric hoists to deliver builders and cargoes to the floors of projected high-rise buildings.
There are all the necessary facilities for a high quality of works including a highly qualified personnel which is a most important issue. There is an imported high-productive equipment which is available to implement non-standard technological decisions in the production process.
Not only completely carries out the trust's program to install elevators on projected and reconstructed objects, but also supplies the demand for the performed activities in most parts of the Republic of Belarus and abroad.
Taking into account the continuous improvement of lift equipment and nomenclature of manufactured products, it can be claimed that the SMU-1 team are ready to provide with qualified and fast work implementation on installation of elevators at the present stage of development of lift construction.
---
220013, Minsk, Yakuba Kolasa, 38
Tel./Fax: +375 17 234-36-63; +375 17 292-03-17
E-mail: smu.1@tut.by
+375 17 234-35-65 – Director Kovalev Igor Adamovich
+375 17 234-35-65 – Deputy Director Nazarenko Vitaly Vladimirovich