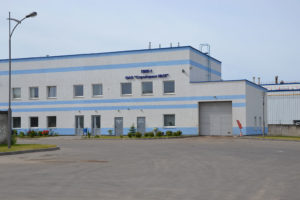 Landscaping and laying of external engineering networks.
At first it was a part of the engineering networks served by a number slightly more than 30 people who later joined the management of mechanization. The volumes in the trust were growing, and in 1989, they created a new unit on the basis of UMSR – Peredvizhnaya mekhanizirovannaya Kolonna No. 1 (Mobile mechanized column No. 1). Time confirmed the correctness of the decision.
Today, PMK-1 is the successfully working branch of more than 250 persons discharging functions as a subcontractor and General contractor. Its structure involves a site of heating mains, two plots of Vic and improvement and the Department of the chief mechanic.
In the store of PMK-1 there are more than 40 pieces of modern machinery (10 excavators, 9 loaders, dump trucks, bulldozers, heavy trucks, pavers, rollers, etc.) available.
In 2013 in the industrial area in Shabany,  the branch put into operation modern machinery in the maintenance and repair of construction equipment. For machinists and mechanics there have been created favourable conditions for the realization of repair works at any time of the year: roomy and warm sheds for cars, spacious workshops, a welding shop, a recharging station and a car wash. Further modernization of production facilities is to be continued.
The production potential of the branch "PMK-1" is perfectly demonstrated by the improved areas of such important objects as the national library of Belarus, LLC "Silichi", "SOS-Children's village Borovlyany", "Chizhovka-arena", the Park of the 900th anniversary of Minsk, apartment houses, polyclinics, kindergartens, schools and other socially significant objects.
---
220013, Minsk, street Jakuba Kolasa. 38
Tel/Fax +375 17 280-03-88 – reception
+375 17 234-36-30 – Director Shapiro Naum Borisovich
+375 17 234-36-31 – Chief Engineer Michasyonok Mikhail Alexandrovich