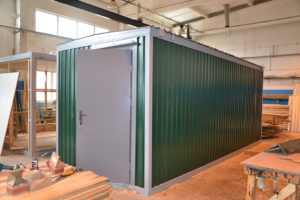 Wood felling and lumbering, production of personal service rooms, manufacture of masonry grid, window weatherings, parapet walls from galvanized steel and polymer-coated steel, and PVC production.
None of the construction sites of the trust can dispense with the active participation of the branch "Production and processing equipment area".  It delivers to the objects materials and components of masonry grid, window weatherings and parapet walls from galvanized steel and steel with polymer coating, special floor for pitched roofs, joinery including battens, floorboards, baseboards and others. Their production is well known not only in the trust, but also in other "Minskstroy" organizations . In addition to, there are gazebos, benches, small architectural constructions produced by the branch and widely used according to the city program improvement .  All kinds of activities and production have got certificates of quality conformance.
In 2013  a new industry for PVC products was opened on the basis of the branch . Now, trust objects will be equipped with modern window- and door constructions.
There are personal service rooms, rooms for overall drying and tool storage to be of great popularity among builders.
Comfortable, insulated personal service rooms are of modern design and with fitted wardrobes. Orders are carried out according to any sketches. In 2013, 14 personal service rooms and 5 rooms for overall drying were delivered to construction sites. Besides, manufacture of personal service rooms of 2 models is approved, f.e. a foreman – car.
"To operate profitably and compete at the construction market, we need to improve our activities", Nikolai Merkul, the Branch Director assures. Therefore, it is planned by the management to reconstruct wood felling manufacture. It should let increase in the range and improve quality of production.
Production capacities of the branch "Production and Processing equipment area":
Production of PVC-profile – 2500-3000 m2 per month and their installation.
 Production from lumber (edged and unedged boards, rafter systems, beams, battens, floor boards) – up to 200 m3 per month.
Implementation of the fire- treatment of products made of metal and wood.
Production of masonry grid d = 3-5mm – up to 10 tons per month.
Production of weatherings, parapets from galvanized or polymer coated steel – 1000 m 2.
Production of personal service rooms, aggregate sets, facilities for overall drying, constructions of modular designs.
Production of small architectural constructions.
Installation of thermal insulation of pipelines of heating systems, water supply and ventilation systems.
---
220013 Minsk, Yakuba Kolasa street, 38
Tel. /Fax +375 17 344-92-81 – personnel department
+375 17 234-13-36 – Director Merkul Nikolai Ivanovich
+375 17 344-24-71 – Deputy Director Borisov G. A.