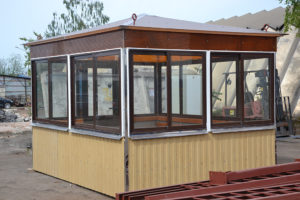 Fabricating and installing metalware, stairs and railings, filling doorways, providing the pocess of construction by means of small-scale mechanization, producing metal fireproof doors.
The branch specializes  in manufacturing black metal roll and stainless steel metalware of all types and difficulty levels according to the customers' drawings, sketches and samples.
We have our own production base, allowing to produce 80-100 tons per month. The enterprise owns a rich equipment base, which allows in undertime to produce metal structures of high quality: Makita cutting machines, guillotine shears with a maximum cutting thickness of 14 mm, the welding equipment of leading world manufacturers Mitech, Telwin, Fronius, reinforcing steel shears, hydraulic bending machine, hydraulic press, lathe, threading equipment, vertical drilling machines, magnetic drilling equipment, a wide range of hand tools. Also the enterprise implements plasma cutting of metal sheets up to 60 mm, rolling flat products and section. We produce all kinds of mechanical metal processing: turning, milling, planing, jig boring, grinding, heat treatment. We have our own paint shop that  is served by a hydraulic manipulator of 5 tons.
Our production corresponds to State Standart and technical condition. We develop documentation and provide certificates of quality and conformity declarations on our production. The enterprise produces internal, external and fire metal doors that are confirmed by certificates.
At all building sites erected by JSC "Stroytrest №. 35" we use metalware, produced by our branch. During the construction of the maternity hospital of the 5th municipal clinic we constructed and installed 4624 M. p. various types of fences from stainless steel  including fencing with the filling of file-hard frosted glass, rolled rails around columns, handrails at the entrances, handrails for disabled, sanitaryware  made of stainless steel plate, awnings covered with polycarbonate and metal profile, sumps, perimeter fencing, fencing of an oxygen chamber, benches, embedded parts, lintels, metal doors, hatches, lockers, portals for elevators and many other metal products.
Thanks to our own engineering department and significant production capacities, our company independently performs all necessary jobs. After receiving a technical task experts will carry out measurements on-site, prepare all the necessary drawings and documentation, and then the desired product of any complexity and design will be manufactured on the modern equipment.
---
220075 Minsk, Selitzkogo street, 25 А
Tel/fax +375 17 344-87-73
+375 17 344-87-73 – Director Daletzky Nikolaj Alexeevich
E-mail: ermolich-e@tut.by