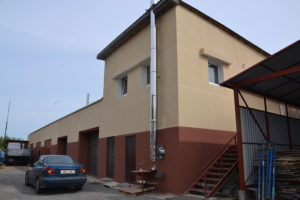 General contracting construction activity, variety of construction, finishing, internal electrical and plumbing works.
There is no such project which would not be able to be implemented by the General contracting team of SU – 210, performing a full range of construction, finishing, electrical and plumbing works. For many years, the management has been successfully building objects for a turnkey implementation. In the late nineties-at the beginning of 2000 the team participated in the construction of housing in  Naro-Fominsk district of Moscow region. Today the branch "SU-210" builds houses, kindergartens, administrative buildings, social facilities and reconstructs  social objects. Since February 2013 the team is headed by Pavel Vyacheslavovich Shchurko.
Among the last-built objects, there are houses in M. Gorka and the town of Zhodino, a kindergarten in the settlement of Vostochny and many others to be emphasized. At present,  SU-210 is general contractor for the construction of a military camp in the settlement Vornyany.
SU-210 employs more than 160 people, including about 140 workers of all building specialties, performing the following activities:
7 teams of masons monthly perform up to 2 000 m3 of brickwork;
1 team of plasterers performs a full range of plastering work (soffits, bossages, etc.), making the production of at least 1 500 m2 per month;
2 teams of joiners are able to fill in per month to 1 000 m2 of window and door openings,
2 000 m2 of plasterboard walls and other woodworks;
3 groups of installers are able to assemble per month about 1 300 units of precast concrete;
carpenters – concreters flood monthly to 800 m3 of  reinforced concrete;
team of roofers are able to make per month a flat or pitched roof to 1000 m2;
a team of tilers coat per month approximately  1 000 m2 of walls and 1200 m2 of floor or perform coupling work to 3000 m2 per month;
a team of painters performs  monthly finishing work of wall decoration of all kinds to 2 000 m2  from wall preparation till wall painting of high-quality and wallpapering with pattern selection;
4 groups of facade makers perform at least 1 200 m2 of wall insulation and 2000 m2 of facade decoration;
6 welders, including 4 gas – electric welders, are able to weld per month to 10 tons of metal constructions.
Thus, to date, the branch is ready to carry out any construction and installation work within the shortest possible time and guarantees high quality of work performed.
---
220013 Minsk, Yakuba Kolasa street, 38
Tel/fax +375 17 292-55-66 – reception
+375 17 234-36-70 – Director-  Shchurko Pavel Vyachelavovich
+375 17 234-36-65 – Chief Engineer – Dubovik Dmitry Valentinovich